It's been a few weeks since we started rehearsals for
Zorba,
Kander and Ebb's spirited but occasionally apologetically brutal musical based on the book and movie,
Zorba the Greek
. Set in early 20th-century Crete, the plot follows the story of a Niko, former Athens teacher who finds himself mixed up with the aging but lusty, spontaneous and impish title character while on his way to try to make his fortune by re-opening the island's mine - his new inheritance.
Good Call, Niko
The people of Zorba's world are full of life and welcome as they are often crude, superstitious and mistrusting. As the two acclimate to Crete among its curious inhabitants, we see them embark on romances - one, Zorba and his paramour, the charming but companionship-starved Madame Hortense, and Niko with a quiet outcast, a mysterious widow who is both hounded by advances and rebukes from the other townspeople. In the audience, we're treated to two seemingly different female figures who are remarkably alike in their unapologetic fearlessness to live and operate by their own rules despite constant mockery. Madame Hortense is a former courtesan who reminisces about her glory days protecting her adopted homeland through sexual favors (and having quite a bit of fun while doing it), while the Widow (that's all we know her by - a moniker which in itself evokes surviving a painful past and inner strength) chooses who to be kind to by who is kind to her. The men of the town seem to want her, but also hate her for what they see as her prerogative to only show favor to certain men - mostly the humane ones. I'll blog more on her later. Hers is an age-old problem universal for all womanhood, in a way. In Greek mythology, Venus (her Greek name was Aphrodite) was also self-determining in the face of being overpowered; myths recount that she chose her lovers - most famously, Mars, or Aries, god of war - after a husband was chosen for her, the decidedly duller Vulcan, or Hephaestus.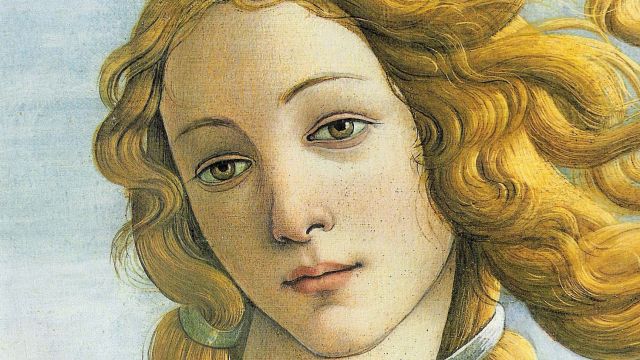 Probably not a real blonde, though.
Around the women of
Zorba
, the story ebbs and flows, and is also led. Among the villagers, there is an enigmatic figure that is known as the "leader," played in our cast by the outstanding Lindsey Jones. I love that this strong, almost godlike lead role was written as a woman - a knowing, respected, wise and powerful woman who takes the aspects of the story - the journeys, the losses, the joys - and celebrates, mourns, witnesses and marks them with the audience and the characters alike. She AND Zorba call us to be present for our lives through their songs and philosophies. They both remind us to be participants in our own stories, to reach out, to speak out, to embrace immediacy, but also to accept and remember. What I appreciate is that as much as this is Zorba and Niko's story (Niko is our audience stand-in as we're on this journey), that this is a story that couldn't happen without these self-determined, independent-minded female entities. After all, in Zorba's story - "man is only a passerby."